What's Upintheair with Katey Hoffman and Cheyenne MaBberley?
Here, we interview exciting Vancouver artists and ask them what's up and many other ridiculous questions.
Sometimes, good things come in packages. Katey Hoffman and Cheyenne Maberley are just that. They have tapped into the teenage psyche and they are tearing up the Vancouver theatre scene. Spring is in the air and let's say... these teens have blossomed. What started as a theatre school friendship has turned into a multi-show comedy goldmine. They even have a catch phrase: "It's A Banger". I asked this dynamic duo a few silly questions and also... What's Up?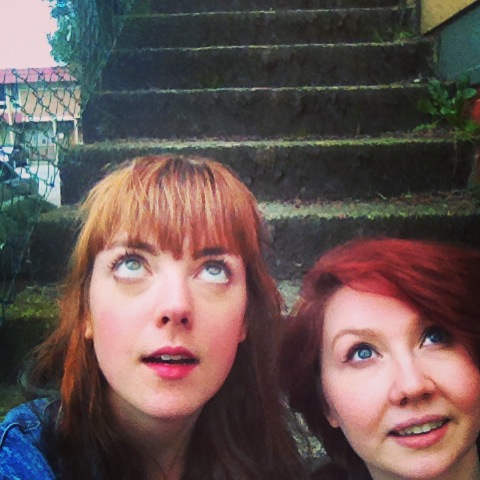 Describe yourselves in the format of a character synopsis.
Cheyenne: Cheyenne- plump, mid to late twenties. If Julia Child was an anarchist. Katey- leggy, mid to late twenties. If Gabe from The Office was hot.
Katey: Cheyenne - mid to late twenties, dressed to kill. Literally. She'll kill you. Katey - mid to late twenties, if Gumby were a caucasian woman.
What do you consider your greatest achievement?
Katey: I overcame a life-threatening mental illness. I know that's pretty serious for a fun Blog, but just livin' my truth, girlfriend.
Cheyenne: Building a company with my best friend. Being able to pay myself for telling a story about my drunk teenage self.
What's the craziest thing you've ever done for a theatre project?
Cheyenne: In theatre school I was once directed to become a lion, eat Katey's hands, and then "be Karla Homolka" all in one scene.
Katey: I got naked and took a bath onstage in a large tupperware bin.
"This comic team keeps the surprises coming for an hour. Outrageous? You bet. Unique? Uh, yeah. And gobsmackingly skillful" —Colin Thomas, colinthomas.ca
Katey, does Cheyenne have any hidden talents? If so, what?
Katey:She's very good at fighting online trolls. And playing softball. She is also freakishly buoyant.
Cheyenne, does Katey have any hidden talents? If so, what?
Cheyenne: Katey has an uncanny ability to make clothes that are arguably only meant for elderly women work for her.
What's one show and/or event in the Vancouver theatre scene you have loved?
Cheyenne: Titus Bouffonius slayed me. Brave, hilarious, dirty, dark, and all around brilliant.
Katey: I absolutely love the Lady Show! So many funny ladies in one place. And Push Festival- I've seen some of the best shows of my life at Push. And Pull Festival, where we got our start as writers, is one of my favourites. So much new talent and it's always a bangin' party.
If you could only use one prop for every single show you do from now on, what would it be?
Katey: A banana guard. Safety first.
Cheyenne: In The After After Party I carry around a small photo of my grandma in a sparkly frame that says "BFF." I don't see how one would need anything else
Do you two have any behind the curtain rituals? Something you do before you go onstage together?
Cheyenne: Fireball shots. Dancing. Freaking out from self doubt while telling each other we're great.
Katey: We cling to one another and swear a lot.
If your partnership were an ice cream flavour, what would it be?
Katey: Cinnamon Whiskey
Cheyenne: Cinnamon Whiskey
Seeing as how one of Upintheair Theatre's mandate involves supporting the next generation of theatre makers, what advice would you give to an emerging artist living in Canada?
Katey: Wow. I don't really know... I'm an emerging artist living in Canada and I'm just hustling and trying my best, you know? It's fucking hard. I guess the best advice I can give is be compassionate to yourself and be kind to others. And prepare your ass off for any audition. That's the one thing in your control: preparedness.
Cheyenne: Don't take no for an answer. There is space for you. Make work that is uncompromisingly true to yourself and keep doing it until people can see its value.
Describe your theatre school experience in 3 key words?
Cheyenne: Long. Sticky. Embarrassing.
Katey: Challenging, Rewarding, Promiscuous.
What are you both most excited about right now?
Katey: The big changes happening in the Canadian Theatre scene, taking down the patriarchy, and the future for After Party Theatre!
Cheyenne: I'm so excited to start working on the sequel The After Life Party! Also to try and tour the After After Party.
Now finally… what's Upintheair? Give us the details of your show? Juicy details. Date/time/venue/tickets$?
Both: THE AFTER AFTER PARTY March 6-17th, 8pm (2pm matinees Sat & Sun), at THE CULTCH, $35 tickets at cultch.com OR use promo code BANGER for $10 off your tix March 6-11th (offer expires March 2)